Contractor Bonds - Who Benefits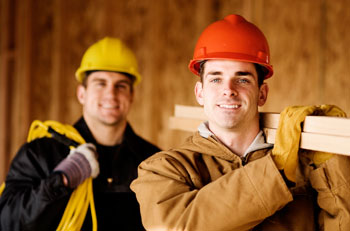 To some people, contractor bonds may seem unnecessary. They might be considered too expensive or only beneficial if a project doesn't turn out as expected. In reality, a contractor's bond is crucial; they help clear up insurance issues that seem murky when associated with big projects and benefit everyone involved in a construction project - homeowners, businesses, and contractors.
Understanding the Difference between a Contractor Bonds and Insurance
When a contractor or business tells a client they are both bonded and insured, many clients assume these terms are interchangeable. However, these terms mean different things. Contractor's insurance refers to liability insurance and workers' compensation, the two types of insurance construction workers and home improvement businesses most often carry. These types of insurance primarily protect the workers themselves.
For example, liability insurance covers contractor-induced property damage but may not require that substandard work be repaired or replaced. Workers' compensation is helpful to both workers and their families in the event that the worker is injured on the job. Regardless of who is at fault, it pays for needed medical services and replaces the injured worker's lost wages.
In contrast, a contractor's bond exists primarily to protect the homeowner if the construction project does not go as planned. The contractor's bond covers a variety of things that can go wrong – for example, if a contractor fails to apply or pay for permits, doesn't pay for any property damage incurred during the project, or doesn't complete the project.
Know How Bonding Works
Before hiring a contractor, you need a basic understanding of how bonding works, particularly how it affects that person's licensing. Depending on the state you are in and the contractor's bonding and insurance company your project is associated with, there may be slight differences in bonding requirements. However, there are several components of a contractor's bond that are the same across states and insurance companies.
When a contracting company becomes bonded, they generally pay a premium to a surety company. The company then writes a contractor's bond consistent with state requirements. The Attorney General's office must approve the bond, and it must carry the signature of the surety company's attorney-in-fact.
How Contractor Bonds Protects Everyone Involved
Construction projects are huge undertakings, and everyone involved, including the business and construction workers, must be protected at all times. A contractor's bond ensures protection for all parties, and they ensure the homeowner is working with a quality company. A surety bond lets you know your company is in a good place financially, since bonding agents require positive net income from all companies. In addition, surety bonds protect both workers and homeowners from contract disputes and expensive or drawn-out project delays. A contractor's bond can not only prevent or alleviate these delays but also keep you out of court should a dispute arise.
How Bonds and Insurance Work Together
A contractor's bonding and an insurance company should work together to benefit each other. As noted, bonds complement mandatory construction contracts. For example, a surety bond ensures both the business and the homeowner that a contractor will follow all terms of a project contract and pay for subcontractors and materials, in addition to covering any property damage that may arise. This keeps both the contractor and his or her company in good standing with insurance companies.
In addition, this allows insurance companies to work more efficiently with contractors who not only go through the rigorous bonding process, but follow the terms of all contracts to the best of their ability.
Contractor bonds protect the investment of time and money for everyone involved and are well worth the expense. In fact, proper bonding could mean money saved all involved parties.
Have questions on contractor bonds? Give us a call at 866.451.4222 or contact us through our website. We'll be happy to help.